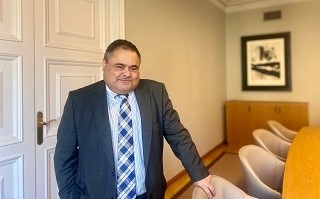 Claudi Rossell
Of Counsel
Claudi Rossell is Of Counsel at Cases & Lacambra in Spain and a member of the Financial Services Practice Group.
Claudi has more than 25 years of professional experience in the national and international banking sector is a leading lawyer in private international law and in treasury and capital markets. He advised as a lawyer for almost a decade at Baker & McKenzie, in the Chicago and Barcelona offices, in the latter leading the office's finance practice.
He has also held the position of general counsel of the treasury department at Caixabank, where he has developed an intense professional activity over the last 16 years. During this time, he has participated in the negotiation, design and documentation of treasury transactions and complex financial structures, advising on both the legal aspects under Spanish law and their regulatory implications.
Throughout his professional career he has been a key player in dispute resolution in the financial sector, participating in more than two hundred national and international financial dispute resolution cases, particularly in the inter-dealer or institutional market.
Law Degree.
University of Barcelona.
Master in International Management.
ESADE Business School.
PhD in Law.
University of Barcelona.
Diploma in CEE Affairs.
Patronat Catalá Pro-Europa – Ministry of Foreign Affairs.
Certificate in European Business.
WHFU Koblenz School in Germany.
Member of the Barcelona Bar Association.
"Aspectos Legales del Uso de Participaciones Hipotecarias en Fondos de Titulización", Revista de Derecho del Mercado de Valores, Nº. 20, 2017.
"La Caracterización Jurídica de los Derivados OTC: Algunas Reflexiones a Propósito del Voto Particular a la Sentencia del Tribunal Supremo de 10 de julio de 2014", La Ley Mercantil, Nº. 7, 2014.
"La Transposición en Derecho Español de la Collateral Directive", Revista Práctica Mercantil & Contable, Abril 2005.
"La Cesión de Crédito en la Titulización de Créditos Comerciales", Revista Práctica Mercantil & Contable, Enero 2004.
"Cuestiones de Calificación de los SWAPs de Crédito", Revista Española de Derecho Bancario y Bursátil, Octubre -Diciembre 2000.
"Normas de Conflicto de Leyes en Materia de Garantías sobre Valores Representados por Anotaciones", Revista Española de Derecho Internacional, 2000-I.
"The New Regulation of OTC Derivatives Markets in Spain", European Business Law Review, Noviembre – Diciembre 1999.
"Aspectos Jurídicos del Contrato Internacional de SWAP" , Ed. Bosch, Barcelona, 1999.