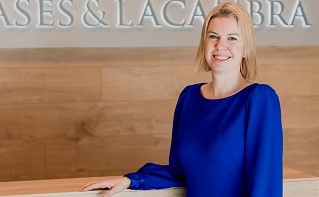 Elena Redondo is a Partner at Cases & Lacambra in Andorra. Her practice is focused on Public Law, Real Estate, Construction and Environmental Law and she has participated in the drafting of regulatory projects in such areas. 
Elena has broad experience advising private clients and public administrations in public law, including administrative procedures and legal proceedings.
Her professional practice includes due diligences processes prior to the acquisition of real estate assets of the tourism, commercial, industrial and energy sectors, as well as in the preparation and execution of all phases of the transaction.
She holds an Environmental Sciences and Law Degree from the University of Barcelona and a Postgraduate in Andorran Law from the University of Andorra. She also attended the Leadership Program for Public Management from IESE Business School – University of Navarra.
Prior to her incorporation to Cases & Lacambra, Elena worked at Roca Juyent in Barcelona and Manubens, where she founded and led the Andorran office.
Elena is a lecturer in Hospitality Law at Vatel Hotel & Tourism Business School in Andorra, and at the Advanced Training Programme for real estate agents in Andorra. She has also been a lecturer in the Master's Degree in Environmental Law at the Barcelona Bar Association.
She is a Honorary Consul of Brazil in Andorra and Secretary of the Andorran Business Confederation.
Law Degree
Universitat de Barcelona
Environmental Sciences Degree. Specialized in territorial planning
Universitat Autònoma de Barcelona
Doctoral studies. Urban management and assessment
Universitat Politècnica de Barcelona
Leadership Program for Public Management
IESE Business School – Universidad de Navarra
Postgraduate in Andorran Law
Universitat d'Andorra
Member of the Barcelona Bar Association
Member of the Andorran Bar Association
Public Sector
Real Estate and Construction
Tourism & Hospitality
Technology and Innovation